24/7 testing proficiency within a robust test setup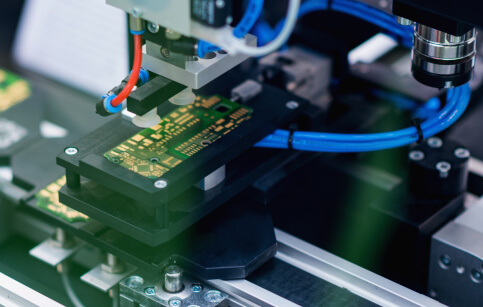 Infrastructure At Its Best
The best environment for optimized testing
Infrastructure is an investment where Tessolve differentiates itself from other service companies.
Our test floor spreads over 5000 sq. ft. and houses the latest testing equipment – Bench Equipment, Handlers, Probers, and Thermostreams to name a few. From prototyping to final product industrialization, we offer customized testing solutions on our test floor.
Tessolve's 800 + test engineers have extensive expertise in multiple ATE platforms and product domains, providing solutions on over 40 ATE platforms.
Our test floor represents the best environment to learn and experiment with semiconductor device test challenges.
Our Cutting Edge Test Space
5,000 sq. feet of ATE Test Floor space
2,000 sq. feet of Bench Characterization lab
Power backup by UPS and DG
Chilled water cooling plant, compressed air & Vacuum source
ESD Controls like Anti-static flooring, Grounded equipment, and ESD wrist strap checker
The controlled environment at 23oC ±2 oC
Dedicated Periodic Maintenance and Calibration team
Capable Back-end Equipment
Systemation Tape and Reel
Peel Tester
Parts Counter
Vacuum Sealer
Bake Oven
Strapper
Add-on Ink Marker
Multiple testing platforms – manned 24/7
Advantest V93000 SoC series Smart Scale (Digital & PAC Solutions)
Advantest V93000 SoC series Pin Scale-n L Class (LTH)
Teradyne
Teradyne-Eagle: ETS364
Teradyne-J750
National Instruments: NI STS and STS-Tx Series
Teradyne: uFlex
Additional Test Engineering Expertise
Teradyne: J750: MicroFlex/UltraFlex/I Flex/Tiger & A575
LTXCedance: Sapphire, LTX MX, LTX-C ASL-1K
LTX Fusion HF
MCT/PC, MCT 2K, SPEA
Advantest: T6575/T6373/T6752/T2000
Focused Test FTI 1000: Focused Test FTI 1000: Power Discrete
All-round Testing Excellence For Excellent Silicon Solutions